Products created from our research for you
EVIDENCE BASED RESOURCES FOR PEOPLE LIVING WITH DEMENTIA AND THEIR CARERS
Some of our research has led to products you may find useful. For many years the DSDC Wales Research Centre at Bangor University has been engaged in developing and evaluating ways in which the well-being and quality of life of people living with dementia can be supported and maintained.
Inspired by our current investigations exploring resilience, our Caban group, along with members of DEEP in mid-Wales, have produced this booklet for you: Knowledge is Power
A Welsh language version of the booklet is also available (see Welsh language web page).
Paper versions of the booklet are also available.
---
Two approaches recognised as especially helpful are Cognitive stimulation and Life Story work.
Cognitive stimulation aims to engage and activate the mind of the person with dementia through interesting, enjoyable and fun activities. Although originally developed as a group approach for use in day-centres and care homes, our research has shown that family carers can also use it effectively.
We have developed a manual for use by family carers with many ideas for activities that have been tried and tested.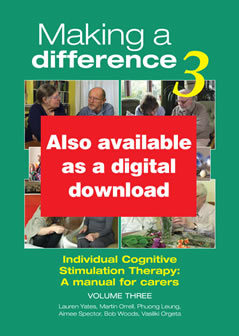 The English language version of the manual can be purchased from: https://hawkerpublications.co.uk/product/making-a-difference-3
(You can order a printed version of the manual to be posted to you for £29.50 or it can be downloaded for £19.95.)
A Welsh language version of the manual used in our research study is also available (see Welsh language web page).
Everyone is different, of course, and not all the activities suggested will interest or be appropriate for everyone. A 'pick and mix' approach is recommended. The important thing is to follow the key principles of the approach, which are described in more detail in the manual:
Key principles of Individual Cognitive Stimulation (iCST)
Choose activities that are mentally stimulating
Encourage the development of new ideas, thoughts and associations
Use orientation in a sensitive manner
Focus on opinions, rather than facts
Use reminiscence as an aid to discussing the here and now
Provide triggers to support memory
Stimulate language and communication
Stimulate every-day planning ability
Use a respectful, individualised 'person-centred' approach
Offer a choice of activities
Emphasise enjoyment and fun
Maximise potential
Strengthen relationships by spending quality time together
Here are some tips for carers in offering iCST that we have found helpful:
Choose the time of the day to engage in the activities that 'feels right'
The sessions should concentrate on opinions rather than facts
Avoid correcting and emphasising on errors during the sessions
Avoid asking questions that are direct such as "Do you remember...?"
Adapt the sessions in order to include your relative's/friend's interests
Avoid asking questions that involve explicit memory, such as "Where did you go on holiday last year..?"
Focus on the person's strengths
Offer an alternative activity if the first activity does not work
Above all, the activities can be great fun and enjoyable! It's great to be able to relax and laugh alongside the person you are caring for, to see the funny side of a situation together, to see beyond the dementia and enjoy real quality time together.
---
Life story work is another approach that our research suggests can be very helpful. Here, the person with dementia develops a 'life story book' with the help of family, and this can then be a great resource for memories and conversation. These days, the 'book' is usually digital, accessed on a tablet, smart phone or computer, allowing music, photos and text to all be incorporated. A number of life story platforms are available – at the DSDC we have worked with 'Book of You' who have some excellent digital resources and are offering to help families keep in contact with their loved ones at this time (free of charge):
https://www.bookofyou.co.uk/
https://www.bookofyou.co.uk/book-coronavirus-message-support/
---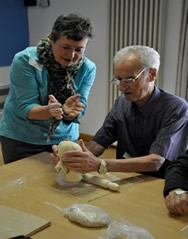 Creative Activities
For those of you who fancy doing something a little different, why not try something creative? No artistic experience is necessary! Just have some fun.
This booklet was developed from our research study Dementia and Imagination. Although developed for arts and care providers, it has useful tips and suggestions for anyone interested in trying out some activities.
---
This booklet shares the experiences of 'what is it like being a young adult in a family affected by neurological illness?':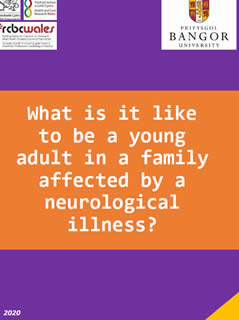 ---
Language and Culture in the Caregiving of People with Dementia in Care Homes - What Are the Implications for Well-Being? A Scoping Review with a Welsh Perspective

"I undertook this work after being offered the opportunity to complete research as part of a postgraduate degree during my training as a Care of the Elderly consultant in Betsi Cadwaladr University Health Board. I was inspired to use a qualitative method after watching the short film, 'Can i Emrys', which shows the importance of traditional Welsh music to an individual with dementia.
My interest in language and culture feeds into the topic of providing care for those in residential homes across the world, who could be receiving their care in their second or even third culture and language. This has a significant overlap with my clinical work, as I can see, on a daily basis, how being able to discuss their medical care in Welsh alleviates the worries of Welsh language patients in Ysbyty Gwynedd and Eryri Hospitals.
Completing the work has been a massive boon to my daily work as a doctor, as I have learnt how to look at patients from a qualitative angle, considering the findings that so many researchers have worked so hard to reveal, to improve the general well-being of the individual, and not only their medical condition." Dr Conor Martin.
View the 3-minute documentary about the power of music using this link: Can i Emrys
Find out more about the importance of language by Dr Catrin Hedd Jones in the latest guide by the Carers Trust (p 55-56):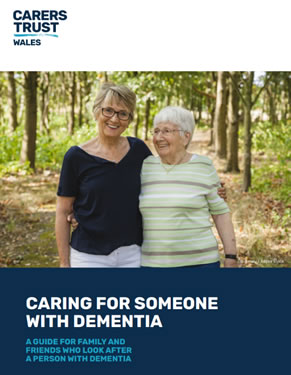 ---