Products created from our research for you
EVIDENCE BASED RESOURCES FOR PEOPLE LIVING WITH DEMENTIA AND THEIR CARERS
Some of our research has led to products you may find useful.  For many years the DSDC Wales Research Centre at Bangor University has been engaged in developing and evaluating ways in which the well-being and quality of life of people living with dementia can be supported and maintained.
Inspired by our current investigations exploring resilience, our Caban group, along with other DEEP members in Wales, have produced these booklets for you: Knowledge is Power - Wales and Knowledge is Power 2:
A Welsh language version of the booklet is also available (see Welsh language web page). Paper versions of the booklet are also available.
If you would like to be part of this ongoing work sharing your experiences with others why not join the Caban group. To find out more, please follow this link to visit their web page: https://dsdc.bangor.ac.uk/caban-group.php.en
---
Becoming a Dementia Supportive Business & Community: A Practical Guide
How accessible is your business and community for someone with dementia? This guide will help you to understand dementia and the challenges people encounter. It includes practical tips and useful information to enable you to support people affected by dementia:
This guide was co-created with experts by experience who are living with a diagnosis of dementia working together with academics in dementia research at Bangor University.
---
Two approaches recognised as especially helpful are Cognitive stimulation and Life Story work.
Cognitive stimulation aims to engage and activate the mind of the person with dementia through interesting, enjoyable and fun activities. Although originally developed as a group approach for use in day-centres and care homes, our research has shown that family carers can also use it effectively.
We have developed a manual for use by family carers with many ideas for activities that have been tried and tested.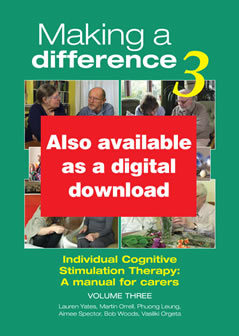 The English language version of the manual can be purchased from: https://hawkerpublications.co.uk/product/making-a-difference-3
(You can order a printed version of the manual to be posted to you for £29.50 or it can be downloaded for £19.95.)
A Welsh language version of the manual used in our research study is also available (see Welsh language web page).
Everyone is different, of course, and not all the activities suggested will interest or be appropriate for everyone. A 'pick and mix' approach is recommended. The important thing is to follow the key principles of the approach, which are described in more detail in the manual:
Key principles of Individual Cognitive Stimulation (iCST)
Choose activities that are mentally stimulating
Encourage the development of new ideas, thoughts and associations
Use orientation in a sensitive manner
Focus on opinions, rather than facts
Use reminiscence as an aid to discussing the here and now
Provide triggers to support memory
Stimulate language and communication
Stimulate every-day planning ability
Use a respectful, individualised 'person-centred' approach
Offer a choice of activities
Emphasise enjoyment and fun
Maximise potential
Strengthen relationships by spending quality time together
Here are some tips for carers in offering iCST that we have found helpful:
Choose the time of the day to engage in the activities that 'feels right'
The sessions should concentrate on opinions rather than facts
Avoid correcting and emphasising on errors during the sessions
Avoid asking questions that are direct such as "Do you remember...?"
Adapt the sessions in order to include your relative's/friend's interests
Avoid asking questions that involve explicit memory, such as "Where did you go on holiday last year..?"
Focus on the person's strengths
Offer an alternative activity if the first activity does not work
Above all, the activities can be great fun and enjoyable! It's great to be able to relax and laugh alongside the person you are caring for, to see the funny side of a situation together, to see beyond the dementia and enjoy real quality time together.
---
Life story work is another approach that our research suggests can be very helpful. Here, the person with dementia develops a 'life story book' with the help of family, and this can then be a great resource for memories and conversation. These days, the 'book' is usually digital, accessed on a tablet, smart phone or computer, allowing music, photos and text to all be incorporated. A number of life story platforms are available – at the DSDC we have worked with 'Book of You' who have some excellent digital resources and are offering to help families keep in contact with their loved ones at this time (free of charge):
https://www.bookofyou.co.uk/
https://www.bookofyou.co.uk/book-coronavirus-message-support/
---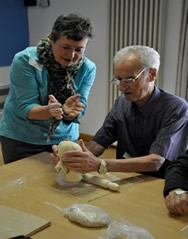 Creative Activities
For those of you who fancy doing something a little different, why not try something creative? No artistic experience is necessary! Just have some fun.
This booklet was developed from our research study Dementia and Imagination. Although developed for arts and care providers, it has useful tips and suggestions for anyone interested in trying out some activities.
---
This booklet shares the experiences of 'what is it like being a young adult in a family affected by neurological illness?':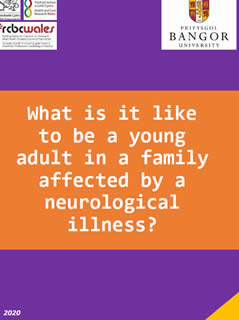 ---
Byw efo Dementia
Byw efo dementia is a Welsh medium Podcast discussing life following a diagnosis of dementia and how to ensure the correct support is in place.
The discussion is facilitated by Dr Catrin Hedd Jones from the School of Health Sciences and includes three guests: Glenda Roberts, Rhian Green and Emma Quaeck sharing their experiences navigating life with dementia. The podcast, funded by the Coleg CymraegCenedlaethol, is part of a series focused on Health. Why not listen to see if this helps your understanding and Welsh listening skills. Please share this link with others within your networks to encourage discussions and awareness on what can help individuals and their supporters to live with dementia.  
---
Language and Culture in the Caregiving of People with Dementia in Care Homes - What Are the Implications for Well-Being? A Scoping Review with a Welsh Perspective

"I undertook this work after being offered the opportunity to complete research as part of a postgraduate degree during my training as a Care of the Elderly consultant in Betsi Cadwaladr University Health Board. I was inspired to use a qualitative method after watching the short film, 'Can i Emrys', which shows the importance of traditional Welsh music to an individual with dementia.
My interest in language and culture feeds into the topic of providing care for those in residential homes across the world, who could be receiving their care in their second or even third culture and language. This has a significant overlap with my clinical work, as I can see, on a daily basis, how being able to discuss their medical care in Welsh alleviates the worries of Welsh language patients in Ysbyty Gwynedd and Eryri Hospitals.
Completing the work has been a massive boon to my daily work as a doctor, as I have learnt how to look at patients from a qualitative angle, considering the findings that so many researchers have worked so hard to reveal, to improve the general well-being of the individual, and not only their medical condition." Dr Conor Martin.
View the 3-minute documentary about the power of music using this link: Can i Emrys
Find out more about the importance of language by Dr Catrin Hedd Jones in the latest guide by the Carers Trust (p 55-56):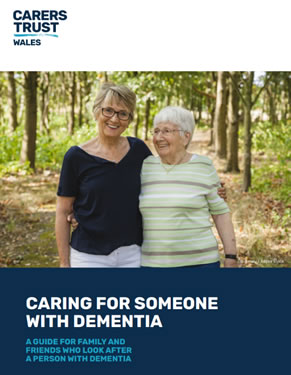 ---
Cân y Gân
Why is a resource like Cân y Gân so important?
Music is a potent force in our lives and we each have a song that raises a smile. Music empowers us to recall a feeling or an emotion and enables us to relive a distant memory. Research shows the positive effects that music has on reminiscence, and that it can be used as a means of easing depression and apathy and contributing to an improved quality of life for individuals living with dementia (van der Steen et al, 2018) Considering the relationship that many Welsh people have with music there seems to be a shortfall of Welsh language music provision when caring for people living with dementia in Wales. Cân y Gân is an album to enjoy these Welsh gems with family, friends or residents in your care.
Why the title 'Cân y Gân'?
'Cân y Gân' is a contemporary folk song composed by the Welsh artiste Alun Huws, commonly known as Sbardun. It has been widely performed by the Welsh singer Linda Griffiths, and originally appeared on the album 'Llais – 6 unique voices from Wales'. The original song was inspired by a visit to a care home where Sbardun witnessed the profound effect of music on residence living with dementia. He noted: 'The programme showed the power of playing familiar songs to residents living with dementia and the effect this has on them'. 
Contributions from individulas living with dementia
The cover showcases artwork created by Phil Townson, a talented musician who lives with dementia. The design is one of the many artworks he created during the Dementia and Imagination research project. The art sensitively blends the themes of this new initiative, with music being a clear and natural influence.
We have also discussed our work with Welsh speaking members of an Alzheimer's Society group. Here are a few their comments (translated):
"I think that it's important that people can listen to the music that they enjoy. There isn't much variety of music where live and it's difficult listening to the same stuff all the time."
"Music from my 20s would help me to remember the good times in my life; the music of Dafydd Iwan especially."
"I think that it's important for staff in care homes to be aware of this resource once it's released; the staff as well as the Managers. Even more so, staff who don't speak Welsh."
Sponsors and Contributors
Cân y Gân has been a collaboration from day one and recognition must be given to our sponsors and contributors. Special thanks must be given to Merched y Wawr for their unfailing support, and to the Centre for Ageing and Dementia Research, Welsh Language Music Day, and Sain for their continuing assistance and support. Alister O'Mahoney, a Music Graduate also worked on the project as part of Bangor University Internship programme.
However, it has been our contributors that have ensured success. Thank you to the people of Wales for sharing the favourite songs of their youth. Without these, Cân y Gân wouldn't stand for anything.

News
Cân y Gân was initially launched at Hafan y Waun Care Home, Aberystwyth back in February 2019. The effect of Welsh music for the residents was certainly witnessed during the launch and the need of such a resource proven.
Online votes opened a few days following the initial launch and many suggestions were entered by the audience attending the the semi-final rounds of the Choir of Wales competition (Côr Cymru). This offered the perfect opportunity to collect almost 600 nominations from Welsh speaking music lovers.
The CD was distributed to carers and care homes across Wales in partnership with Merchyd y Wawr. You can also access the songs and the words from this link:
Download Song Lyrics Download Songs
The CD was launched by the Welsh Government Minister for International Relations and the Welsh Language, Eluned Morgan AM, followed by a public event on the Bangor University stall during the National Eisteddfod, Llanrwst.
Additional Resources
If you would like to create a fully personalised playlist for someone living with dementia, please following the link below.

Playlist for Life www.playlistforlife.org.uk
Facebook https://www.facebook.com/groups/308509843135214/
Twitter https://twitter.com/canygan
Follow this link to the news article.
If you would like further information regarding 'Cân y Gân' please contact
Dr Catrin Hedd Jones (c.h.jones@bangor.ac.uk/ 01248 388872)
---
Co-creating meaningful short breaks for unpaid carers and people living with dementia
---