Music set to bring comfort to Welsh speakers living with dementia
Cân y Gân CD launch with Dr Catrin Hedd Jones from Bangor University (far right) and Merched y Mawr members and National Director Tegwen Morris (blue dress , back row)Welsh speakers living with dementia can now enjoy songs from their past in Welsh, thanks to a Bangor University and Merched y Wawr initiative supported by the Welsh Government to help care givers across Wales improve their quality of life.
Music is said to help soothe, stimulate and bring to mind long-forgotten memories. As part of the initiative, care homes across Wales are to be provided with a new CD and playlist of specially curated Welsh language music.
According to researchers from Bangor University, music can ease depression and apathy and contribute to an improved quality of life for individuals living with dementia. Although many care givers recognise this, the majority of musical activities at care homes take place in the English language, which can result in lost opportunities for residents with strong memories linked to Welsh language music.
Today (Friday 19th July), care home residents in Betws, near Ammanford were the first to re-listen to songs from their past, as the Cân y Gân CD was launched during a special event attended by the Welsh Government's Minister for the Welsh Language, Eluned Morgan.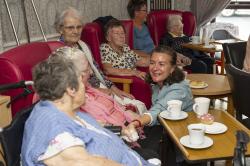 Eluned Morgan, Minister for the Welsh Language, chats with residence of at Cartref Annwyl Fan Care Home.The 20-track disc, which is also available to download contains music from across several decades. It's a collaboration between Bangor University, Merched y Wawr, the Centre for Ageing and Dementia Research, Sain Records and Dydd Miwsig Cymru/Welsh Language Music Day. The collection of songs are the result of work by Music Graduate Alister O'Mahoney as part of his internship with Dr Catrin Hedd Jones.
One thousand copies of the CD which also feature artwork created by Phil Thompson from Rhuthin who lives with dementia, as part of the Dementia & Imagination research project, will now be made available to care givers across the country through Merched y Wawr and available for download from https://open.spotify.com/playlist/4jCQHtXNTS6wFt7hQLRC8p
Cartref Annwyl Fan Care Home, which provides residential and specialist care for up to 70 people living with dementia, hosted members of the Ammanford branch of Merched y Wawr and Rhys Meirion, whose famous rendition of Anfonaf Angel was selected as one of 20 tracks through a public vote.
Eluned Morgan, Minister for the Welsh Language, attended the event to present a CD to Deborah Wellington, general manager at the care home.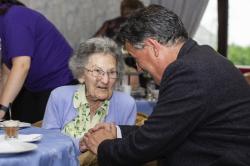 Glenys O'Donogue, Cartref Annwyl Fan Care Home residents with singer Rhys Meirion.She said: "Having previously served as the Chair of Live Music Now in Wales - a charity that promotes live music in care homes, I have witnessed over several years the incredible impact that music from the past can have on people living with dementia.
"Music appreciation is one of the abilities that remains the longest with those living with dementia and for many of us in Wales, the songs that mean so much to us are in the Welsh language. Seeing the response of the residents at Cartref Annwyl Fan today really shows how the power of the music can positively impact on people's lives.
"The new CD I'm really pleased to launch today will help soothe, stimulate and bring mind long-forgotten memories back to life, which will help improve the quality of life for so many Welsh speakers who live with dementia."
Vaughan Gething, Minister for Health and Social Services, said:
"I welcome this valuable resource which will help Welsh speakers with dementia feel at ease.  Through our More than just words framework the Welsh Government recognises the importance of providing health and social care services in Welsh.  Care and language go hand in hand and communicating with people in their first language is a key component in the delivery of quality care."
Dr Catrin Hedd Jones, Chartered Psychologist and Lecturer at the University's School of Health Sciences who has been leading on the project says:
"Music from our youth can still be accessed later in life. This collaboration will enable Welsh speaking residents at care homes to hear songs that they connect with. This really struck a chord with the public with nearly 600 suggested songs enabling us to release this diverse selection of Welsh songs from the most popular suggestions. The words for the songs can be printed from our webpage and we plan to build on this work by introducing personal playlists for people in partnership with the Play list for Life charity. I would like to thank everyone that has contributed to ensure that care staff can now offer welsh songs to their residents."
See also: https://www.bangor.ac.uk/news/archive/ensuring-access-to-welsh-music-for-people-living-with-dementia-39687
and https://www.bangor.ac.uk/graduation/news/the-power-of-music-driving-alistair-s-achievements-41098
Publication date: 19 July 2019