Project information
A randomised controlled trial and feasibility study of the effects of an e-health intervention 'iSupport' for reducing distress of dementia carers, especially in the ongoing pandemic of COVID-19.
1st January 2021 for 36 months.
Who is involved?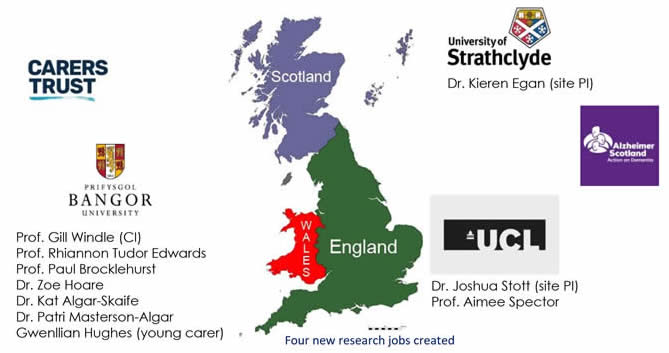 Summary
NHS guidelines recommend informal carers of people living with dementia such as family and friends should be offered training to help them develop care skills and manage their own physical and mental health. The World Health Organisation recommend access to affordable, proven, well-designed, online technologies for education, skills training and support for dementia carers.
In response to these recommendations, we will carry out the first study in the UK of the benefits of an online training and support programme. This was developed by the World Health Organisation and is called 'iSupport'. It is designed for dementia carers to help them provide good care and take care of themselves. Carers can use iSupport at their own pace. They can access whichever parts of iSupport they feel are most relevant to them from their place of choice using a computer, tablet or smartphone.
We will do this research with the help of 350 dementia carers in England, Wales and Scotland by:
Examining the effectiveness of iSupport in reducing distress through a randomised controlled trial. Half of the carers will complete iSupport and half will receive information leaflets. We will translate iSupport into Welsh for use in this aspect of our research. All the carers will answer questionnaires about stress and strain, mental health, resilience and knowledge of dementia. They will do this three times over a six-month period. By comparing the two groups, we will be able to show whether iSupport is better than simply giving information. Those receiving the information leaflets will be given full access to iSupport at the end of our study.
Understanding what aspects of iSupport carers like the most, and what might put them off using it. We will undertake interviews with a smaller group (50) of the carers and have a longer discussion about their thoughts, feelings and the impact of iSupport on themselves. They will do this three times over a six-month period.
Examining the potential costs and benefits of iSupport. This will involve carers answering questions about health and social care service use and their quality of life. They will do this three times over a six-month period.
Adapting iSupport for young carers (age 11-17). There are currently no evidence-based support interventions for young carers of people with dementia. We will work with a group of young carers and adapt iSupport for their use, identify what outcomes are most important to them, and assess this new version of iSupport with 30 young carers.
It is important we do this work because most people living with a dementia are cared for at home, supported by a family member or friend who has limited knowledge of the condition. The role is very stressful, and many carers experience more mental and physical illness compared to people who are not dementia carers. Covid-19 has meant that many older people have to self-isolate, placing increasing pressures on carers.
If we show iSupport helps carers, service providers will benefit by knowing there is a proven service they can recommend to dementia carers. Carers will benefit from reductions in psychological distress and improvements in skills and resilience. People living with dementia will benefit from a better equipped carer. Society will potentially benefit from reduced care costs, as improving care at home can delay care-home admission.

Reach and significance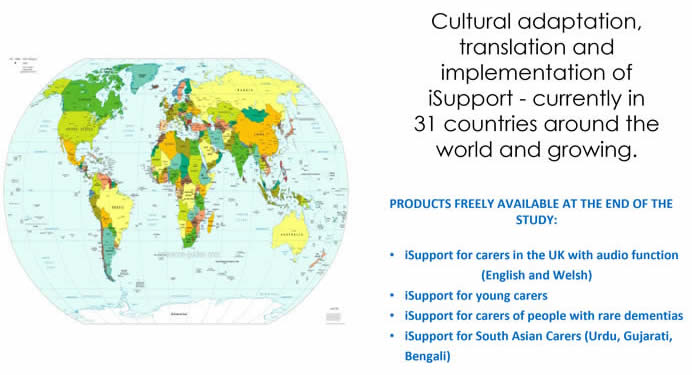 This project is funded by the National Institute for Health Research-Public Health Research Programme (£1.48m).
Project number: NIHR130914