Professor among 28 leading social scientists conferred as Academicians
Bob Woods, Professor of Clinical Psychology of Older People at Bangor University is one of 28 leading social scientists to be made an Academician of the Academy of Social Sciences.
He joins other leading experts working in a wide range of the social sciences, including education, geography, social work, law, sociology, economics and psychology.
Professor Bob Woods AcSS, is a clinical psychologist who has been in the vanguard of the development of clinical psychology with older people and has made an internationally recognised contribution to the development of psychosocial interventions for people with dementia.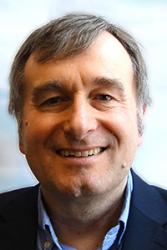 Prof Bob Woods.Prof Bob Woods said: "Dementia remains the biggest single challenge for health and social care in the 21st century. I'm pleased that our research into providing improved care services for people with dementia and their families is being recognised by the Academy of Social Sciences in this way. This is a team effort and there are excellent collaborations with colleagues in Bangor, the NHS and elsewhere in the UK.'
Bob Woods heads the Dementia Services Development Centre at Bangor University and has been involved in developing and evaluating psychological interventions for people with dementia and their supporters for almost 40 years. He pioneered an evidence-based approach, notably in relation to cognitive stimulation and reminiscence work. He continues to advise the NHS in Wales and leads an active dissemination programme, including staff training and service development. He has received international Awards and recognition for his work.
The Academy of Social Sciences is the national Academy of academics, learned societies and practitioners in the social sciences. It has over 900 individual Academicians, who are distinguished scholars and practitioners from academia and the public and private sectors. They are given this status after a peer group has reviewed the standing and impact of their work.
Publication date: 24 March 2014