Welcome
DSDC Wales was originally established as a partnership between the DSDC at Bangor University and an NHS service development team in Cardiff, who continue to produce the on-line practitioner journal 'Signpost'. Funding for the DSDC has primarily come from charitable and university sources and income from training, together with some grant funding from the Welsh Government for specific projects. Since April 2015, the DSDC has hosted the Bangor component of the Centre for Ageing and Dementia Research funded by the Welsh Government and works closely with other component parts of the Health and Care Research Wales infrastructure.
DSDC Wales is known internationally for its high quality research, developing and evaluating creative psychosocial interventions for people with dementia and their carers; and for studies on well-being and resilience in later life. DSDC Wales collaborates with research networks within Bangor University, across Wales and the other UK nations and internationally and is a core part of the Bangor Institute of Health and Medical Research (BIHMR). The primary aim of the DSDC is to improve the quality of life and well-being of older people and people with dementia and their supporters, through carrying out and applying relevant research. In achieving this impact, the DSDC works closely with a variety of organisations and agencies, both statutory and independent. The DSDC is committed to working with all those who strive to improve the quality of services for people with dementia and their supporters in Wales. New partnerships and opportunities are always welcome.
DSDC Wales faculty are closely involved in teaching on the MSc Dementia Studies and the Centre is also able to accept students wishing to undertake a Masters (by research) or PhD programme in Ageing and Dementia Studies.
Mae'r wefan hon yn cael ei chyfieithu. Ar gael yn y Gymraeg yn fuan.
The DSDC Wales Team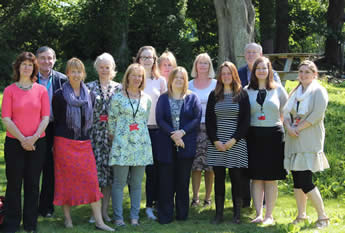 Stroke Peer Reflections
Read a short summary of the impact of this Peer Stroke Project here.