Children join in Dementia & Imagination- Lost in Art project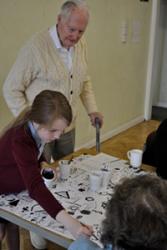 School children in Denbighshire worked alongside an art group for people living with dementia to create a large scale piece of art which responded to questions around involving and including people living with dementia in our society.
Year 6 children from Clawdd Offa Primary School, Prestatyn, joined with group members from Denbighshire County Council (DCC) Art Service's 'Lost in Art' programme to explore questions on creating inclusive and supportive communities for people living with dementia within our own communities. The children also took part in a Dementia Friends awareness session before the workshop to learn more about the illness.
The group was supported by artist Lisa Carter who has led workshops for people living with dementia in North Wales. The art installation created by the group will be open to the public in studio 6 in Ruthin Craft Centre until the 30th April.
Lisa is also creating a film of the art work which will be shown as part of a major public event, the Utopia Fair, which will take place in the Edmond J Safra Fountain Court at Somerset House, London, from the evening of 24th June 2016 until 26th June 2016.
The Festival is being undertaken in partnership with The Somerset House Trust as a part of their 'Utopia 2016: A Year of Imagination and Possibility'. Utopia 2016 is four seasons of activity celebrating the 500th anniversary of the publication of Thomas More's Utopia. Published in Leuven in December 1516, More's Utopia presented an imaginative and playful vision of the world as it could be at a time of great change.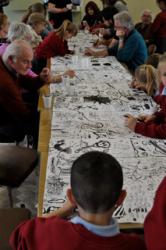 This event is an exciting continuation of the partnership between Dementia and Imagination and DCC Arts Service as part of the Dementia and Imagination research study. This UK wide study, led by Bangor University, is looking to see whether creative activities can help people living with dementia and those who support them. Funded by the Arts and Humanities Research Council (AHRC), The Connected Communities Programme aims to build powerful collaborations between researchers and communities to generate distinctive research insights on the changing role of communities in sustaining and enhancing our quality of life and to produce legacies of value for both future research and for communities. The Programme is led by the AHRC in partnership with other Research Councils and a range of other organisations.
Professor Bob Woods, Director of Bangor University's Dementia Services Development Centre, said "This is an exciting step towards building a dementia friendly community in North Wales. Bringing together school children and people with dementia in a creative arts project will have benefits for all involved, and also demonstrate to the public that people can still live well with dementia, and have much to offer to society."
Siân Fitzgerald, Arts Officer for Denbighshire County Council Arts Service commented:
"Denbighshire County Council Arts Service are delighted to be working with artist Lisa Carter and the Dementia and Imagination team on this event that will give people living with dementia and school pupils the opportunity to explore in a creative way what a dementia friendly utopia would look like to them."
Two other events will also take place with partners Newcastle University and Equal Arts in Newcastle and Manchester Metropolitan University and Associate artists from Nottingham Contemporary in Chesterfield exploring similar questions with people living with dementia, care staff, NHS staff and individuals from organisations who work to support people with dementia.
Publication date: 22 April 2016