New MSc in Dementia Studies draws on academic and clinical expertise
The development of a new MSc in Dementia Studies this academic year represents an exciting opportunity for clinical staff involved in dementia care, both in the community and in hospital settings across North Wales, the UK and internationally. It was developed through partnership work between Bangor University, BCUHB and the Coleg Cymraeg Cenedlaethol. The MSc in Dementia Studies starts from the viewpoint of people living with dementia and then explores areas of clinical practice and research from this stance throughout the course, exploring important issues that confront people living with dementia and the best approaches to delivering excellent care.
In this way, the course provides an innovative approach to dementia care that challenges contemporary approaches to health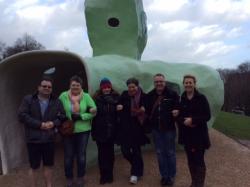 Students from the Betsi Cadwalader Health Board (BCUHB) having a seminar in the 'Caban' at Pontio focused on cultural and language sensitivity issues in dementia care (Left to right: Matt Philips, Jane Hepstonall, Delyth Fon Thomas, Mari Ireland, Emyr Wiland social care of people living with dementia. It seeks to drive forward a shift towards active person and family-centred care of people living with dementia through a flexible part-time and full-time programme. Within the course students explore the best approaches to inform their clinical practice on a day-to day basis, recognising the complex range of issues facing people living with dementia at home and in hospital, including the importance of sensitivity to cultural and bilingual aspects of care.
The course integrates teaching and research within the School of Healthcare Sciences as it seeks to bridge research and practice to develop better care for people living with dementia, including the involvement of the DSDC. This is an internationally renowned centre of excellence in dementia research within the School of Healthcare Sciences led by Professor Bob Woods. People living with dementia are part of the teaching team as well as specialists in dementia care from the Health Board and the School, including the DSDC.
The MSc in Dementia Studies was developed by Dr Sion Williams (Senior Lecturer), Sean Page (Nurse Consultant for Dementia BCUHB/Honorary Senior Lecturer at Bangor University) and Glenys Williams (Coleg Cymraeg Cenedlaethol/ Bangor University Lecturer/ BCUHB). It includes a focus on recognising the diverse experiences of people with dementia and that their voice should be centre stage, as well as developing an awareness of cultural and bilingual aspects as part of dementia care in North Wales. Delyth Fon Thomas an Acute Dementia Clinical Nurse Specialist and Prevention of Delirium Facilitator at Ysbyty Gwynedd, BCUHB has been a student at the forefront of developing the course as part of the team. Sean Page highlighted:
"There is a great need for people affected by dementia to receive the quality of health care that every other citizen of Wales can expect. The NHS meets physical needs well and offers great technical skill but too often has fallen short of providing dementia care that truly meets emotional and psychological needs of those with dementia and their families. This MSc course highlights the interdependency of the physical, emotional, psychological and cultural aspects of care. It will build the knowledge base of health board staff who will become the change agents and positive role models for future generations of health care workers".
As part of its development Dr Catrin Hedd has been appointed as a Lecturer in Dementia Studies (Welsh Medium) in a partnership between Bangor University and the Coleg Cymraeg Cenedlaethol to further develop the course, drawing together the strands of research, teaching and an innovative approach to cultural and language sensitivity in supporting people living with dementia.
Publication date: 30 August 2016