Bangor University assists development of 'dementia-friendly' church groups
Five groups of churches across North and Mid Wales have been allocated funding to develop dementia-friendly community projects and work towards becoming "dementia friendly".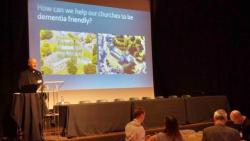 The funding comes from Bangor University's ESRC Impact Acceleration Account (IAA)* and has been awarded to Professor Bob Woods and Revd Dr Bob Friedrich. It follows a conference at Llangollen Pavilion where 78 delegates from Welsh churches gathered to hear how to create Dementia Friendly Churches.
The Conference, organised by the Diocese of St Asaph and open to the Diocese of Bangor, was based on the work of Bob Friedrich, a retired Anglican priest who is studying dementia and spirituality, and in particular the development of dementia friendly churches.
Bob, a PhD student at Bangor University, has selected a cross section of churches and groups of churches, known as Mission or Ministry Areas based on their rural and urban nature and their initial ideas.
The five new projects will be developed at St Mary's Church, Chirk in the Offa Mission Area; Borderlands Mission Area; Cedewain Mission Area; Pool Mission Area; and Bro Cyfeiliog a Mawddwy Ministry Area.
Bob said: "I found in my research that in England the UK effort at creating dementia friendly communities was extending to developing dementia friendly churches. Bishop Gregory Cameron and Bishop Andy John asked me to help bring this further into Wales.
"This is a wonderful opportunity to work with churches to help them offer specific projects which will meet the needs of their local community while they become dementia friendly.
"This might involve activities such as memory cafes, dementia accessible worship services, public information sessions, visiting residential care homes and providing carer support.
"I'll be looking to support these churches as they set up their projects, sharing good practice, offering resources andassessing the impact of their work."
Assisting Bob in working with the five churches and Mission/Ministry Areas is Chris Roberts from Rhuddlan, who was diagnosed with dementia three years ago when he was fifty. He and his wife, Jayne Goodrick, featured on BBC TV's Panorama recently, allowing TV cameras to follow their life. Both now travel the world speaking about living with dementia.
Chris and Jayne were among those speaking at Llangollen Pavilion. Chris told the audience: "I may have dementia, but it doesn't have me."
Memory cafes already take place in churches in North Wales, including in Flint and Wrexham. Flint was the first town in North Wales to achieve the Alzheimer's Society designation "Working to Become Dementia Friendly." The Diocese of St Asaph is offering training to all its churches to encourage them to achieve this designation and is aiming to become a "Dementia Friendly Diocese."
The Engagement Officer for the Diocese of St Asaph, Sarah Wheat, said: "Churches can offer important settings to provide dementia friendly support. The buildings, the services, the hymns are often still familiar to people with dementia and with volunteer support can provide invaluable spaces and facilities."
To find out more about Dementia Friendly Churches, please contact Sarah Wheat on sarahwheat@churchinwales.org.uk or Bob Friedrich at bobfriedrich1@gmail.com.
Publication date: 19 May 2017