Auntie Glenda & her Dementia Friends – Launch Event
A new resource to raise awareness about dementia and created by school pupils at Ysgol Pentreuchaf, is to be launched as part of a celebration of the innovative 'Auntie Glenda' project. This takes place at Bangor University's stand at the National Eisteddfod on Tuesday between 10-1.00.
Dementia is a major public health issue in Wales and the research and teaching at Bangor University is focused on increasing support to those living with the condition. It is estimated between 40,000 and 50,000 people in Wales are currently living with dementia. Symptoms can vary according to the type of dementia but the condition can affect daily tasks, communication, senses and memory.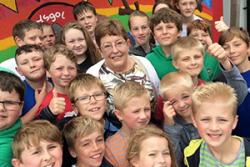 Auntie Glenda and friends.Project Auntie Glenda is a collaborative, community focused project involving Bangor University's School of Healthcare Sciences, Betsi Cadwaladr University Health Board, Anni Llyn, Welsh Children's Bard (2015-2017), Dementia Friends, Social Services and two North Wales Primary Schools (Ysgol Pentreuchaf and Ysgol Llywelyn).
Glenda Roberts who is living with dementia has visited and spoken to the children about her experiences and increased awareness of the condition. The children have jointly created multimedia (Films, Poems & Art work) to express their understanding and to help improve dementia awareness.
The session will highlight useful dementia related resources. Attendees will hear about the potential benefits of this type of project to both school children and those living with dementia, as a model for excellent community involvement.
Dr Catrin Hedd Jones, a Coleg Cenedlaethol Cymraeg lecturer in Dementia at the School of Healthcare Sciences said that the event would be "a great opportunity for us to share good practice by some who have worked hard to assist people living with dementia. We are very proud of our partnership that we have through the North Wales Dementia Partnership, which ensures that people's experiences of living with dementia are to the fore when discussing the future, and what better way than by than by giving children to express what they associate with the condition."
The project team are delighted to extend a warm welcome to anyone involved in education (teachers, policy makers, parents & pupils), healthcare (practioners, students, policy makers) the third sector (charities, retirement homes) those living with dementia or those affected by or interested in dementia to join us to launch project Auntie Glenda.
There will also be a performance from the young award winning band Ffracas, before an opportunity to become a 'Dementia Friend'.
Publication date: 1 August 2017