Professional Development Courses
Training in North Wales
DSDC Wales has many years' experience of providing training for a wide range of staff working in dementia care, and was asked by the Welsh Government to lead the Wales Dementia Care Training Initiative, a key component of the National Dementia Vision for Wales, which ran from December 2010- September 2012. The Wales Dementia Care Training Initiative final report on what was achieved can be downloaded here.
DSDC Wales is committed to training that does not simply raise 'awareness' but actually makes a difference to the lives of people with dementia and their families. Whenever possible, we advise homes and care settings on the organisational and environmental changes that can enable staff to put into practice the skills and knowledge they acquire through training, and encourage staff to undertake project work to put their learning into practice.
Please click on the video below to see a dementia care training clip shown in the BBC TWO documentary 'Dementia: Making a Difference'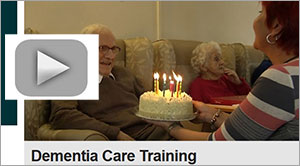 DSDC Certificate Programme
DSDC Wales offers a Certificate Programme comprising a number of modules at levels 2 and 3, accredited by Agored Cymru, several of which contribute towards QCF Awards and Diplomas. Two different training pathways are offered which include units that are knowledge based and units that are competence based for use in the work place. A range of topics are covered as detailed below, all of which are built on principles of person-centred care.
| Level | Unit | Unit title | Unit accreditation number |
| --- | --- | --- | --- |
| * 2 | DEM 201 | Dementia Awareness. | J/601/2874 |
| 2 | DEM 204 | Understand and Implement a Person-Centred Approach to the Care and Support of Individuals with Dementia. | F/601/3683 |
| 2 | DEM 209 | Equality, Diversity and Inclusion in Dementia Care Practice. | Y/601/9277 |
| 2 | DEM 210 | Understand and Enable Interaction and Communication with Individuals with Dementia. | A/601/9434 |
| * 3 | DEM 301 | Understand the process and experience of dementia. | J/601/3538 |
| 3 | DEM 312 | Understand and enable interaction and communication with individuals who have dementia. | Y/601/4693 |
| 3 | DEM 313 | Equality, diversity and inclusion in dementia acre practice. | F/6014686 |
* Knowledge Units.
All other units are Competence Units.
DSDC research into practice workshops
A range of other dementia-related training sessions can be offered. In the past we have offered training sessions on 'Dementia enabling a positive approach to care', 'Reminiscence', 'Staying home alone' (for home care workers), 'Creative activities' (dementia care), 'Professional up-date' (for qualified staff working in services for people with dementia), 'Dementia – managing risk: Building on strengths – care planning and risk assessment', 'Magical Moments: Meaningful activites in dementia care', 'Caring for people with dementia in acute care settings'; 'Person-centred approach', 'Person-centred communication', 'Person-centred assessment' etc.
We can offer bespoke training, please contact us to discuss sessions. Most of our training is commissioned by local authorities, health boards and care providers therefore venues are arranged to suit.
DSDC Open Courses
We offer occasional open courses – contact us if you wish to be placed on the mailing list to be informed about training opportunities as they arise.
Bangor University makes a charge for training provided by DSDC – quotations available on request.
Training in South Wales
FOCUS Training: Details to be added soon…