DSDC Staff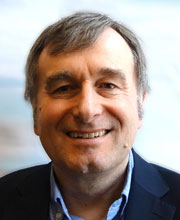 Professor Bob Woods
Tel: 01248 383719
E-mail: b.woods@bangor.ac.uk
Research Interests:
Interventions to improve quality of life and function in people with dementia. Epidemiological studies of cognitive function and well-being in later life.
Profile:
Bob Woods studied Experimental Psychology at the University of Cambridge, before qualifying as a clinical psychologist at the University of Newcastle-upon-Tyne in 1975. He then worked for several years in the NHS in Newcastle, as a clinical psychologist with older people, establishing groups for carers with Age Concern, as well as developing therapeutic approaches for people with dementia. Subsequently he combined extensive clinical work with older people with academic appointments at the Institute of Psychiatry, London and University College London. He was appointed to the first Chair in Clinical Psychology with Older People in the U.K., at Bangor University in 1996, and following his retirement in July 2017 he has been awarded the title Emeritus Professor. He was Director of the Dementia Services Development Centre Wales at Bangor University from its inception in 1999 until 2017. He was Associate Director of the Health and Care Research Wales Centre for Ageing and Dementia Research (CADR), a collaboration with Swansea and Cardiff Universities from 2015-2017. He has been closely involved with developments in dementia care in Wales through his role with the NHS Wales 1000 Lives plus quality improvement programme on dementia care. His research has focused on psychosocial approaches to working with people with dementia and their families and he also leads the major epidemiological study of cognitive impairment in Wales, CFAS Wales. He has published widely, from research papers on dementia care and on depression in older people to text-books for clinical psychologists to books for family carers and training packages. He is an Alzheimer's Society Ambassador, a member of the Medical & Scientific Advisory Panels for Alzheimer's Europe and Alzheimer's International and a Board member of INTERDEM, the pan-European network on psychosocial interventions for people with dementia.
Publications:
A selection of publications:
Promoting Psychological well-being for people with dementia and their carers: An enhanced practice resource (2012) NHS Education for Scotland

The resource is based on work originally developed by Professor Bob Woods and Dr. Mike Bird

1000 Lives Plus How to Guide: Improving Dementia Care (2010) www.1000livesplus.wales.nhs.uk
Produced by Professor Bob Woods
Woods, RT & Clare L (eds) Handbook of the Clinical Psychology of Ageing (2nd edition). Chichester: Wiley. ISBN: 978-0-470-01230-7
Woods, B., Keady, J., & Seddon, D. (2008) Involving Families in Care Homes. 142 Jessica Kingsley Publishers
Moniz-Cook, E., Vernooij-Dassen, M., Woods, R., Verhey, F., Chattat, R., De Vugt, M., Mountain, G., O'Connell, M., Harrison, J., Vasse, E., Droes, R. M., Orrell, M. For the INTERDEM Group (2008) A European consensus on outcome measures for psychosocial intervention research in dementia care. Aging & Mental Health 12(1) 14-29.
For a full list of publications, please click here.