DSDC Staff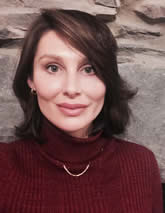 Maria Caulfield
Research Project Support Officer
Tel: 01248 382596
Email: m.caulfield@bangor.ac.uk
Research Interests:
Maria recently joined the Dementia Services Development Centre (DSDC) Wales as a Research Project Support Officer. Maria has a BSc (Hons) Psychology and MSc Neuroimaging from Bangor University. Her role within DSDC is to support the team in quantitative data analysis and the reporting of research for a number of DSDC projects that are nearing the final stages of completion.
Prior to joining DSDC, Maria worked on a number of projects at Bangor University, including the organisation and evaluation of mindfulness in the workplace courses commissioned for NHS employees. She also facilitated the delivery of psychology modules for the Health and Wellbeing at Work Project, funded by the European Social Fund, through the Welsh Government.
Maria developed a keen interest in translational research in dementia to expedite therapy development during her work with NeuroSKILL, an EU funded project aimed at increasing awareness, education and training in dementia through neuroimaging. Maria maintains a strong interest in the use of structural and functional imaging modalities to improve early dementia diagnosis, to provide a complete disease characterisation and monitor disease progression.