Bangor University working towards becoming a 'Dementia friendly' University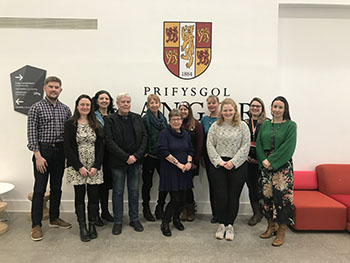 In November 2018 a Steering Group came together to discuss the possibility of working towards becoming a dementia friendly university. Many were surprised at all the good work with Dementia already taking place here in Bangor and following the first meeting everyone committed to building on the existing efforts.

The 'Ageing Dementia @Bangor' research within the School of Health Sciences has established International recognition, it is led by Professor Gill Windle and Dr Sion Williams and has three main objectives:
Promote the health, quality of life and wellbeing of older people, people with Dementia and their carers.
Improve the quality of care and services
To ensure that the voice of the individuals who are living with the condition is central to the work.
Bangor University is also one of three leading Welsh universities in the Centre for Research into Ageing and Dementia (CADR) funded by the Assembly Government to improve the quality of life for older people through research, informing policy and Practice.
Pontio has been active in raising awareness about dementia though performances and community projects such as Voices where secondary school children visited residents in a local care home and the weekly conversations were recorded and performed as a play. In addition to this, front of house staff in Pontio have attended Dementia friends awareness sessions to welcome those living with Dementia to the centre. They also offer the HYNT strategy, in which individuals with Dementia wishing to see any film or show are given a free seat to accompany theirs for carers or a family member.  
Pro Vice Chancellor, Professor Jerry Hunter said "this development is hugely important and one that fits in with the ethos and vision of Bangor University. Given the history of the good work in Dementia care that has taken place at university over the years, and given all the work of bridging Dementia and the arts, this is a natural step for Bangor and one that is very welcome."
Becoming a Dementia friendly university is not going to happen overnight but being aware of all the fantastic projects that are already going on at the university indicates that we are already on our way towards the mark!
Bangor University Dementia Friendly Steering Group
Member

James Ibell

Expert by experinece

Glenda Roberts

Expert by experinece

Ifor Roberts

Expert by experience

Jerry Hunter

Deputy Vice Chancellor

Gaz Williams

Students Union

Mair Rowlands

Students Union

Alistair O'Mahoney

Student

Shari Llewelyn

Creative Producer Pontio Arts

Sharon Roberts

PONTIO Senior Front of House & Facilities Manager

Ian Davies-Abbott

Lecturer

Gill Windle

Professor of Ageing and Dementia Research

Catrin Hedd Jones Chairperson 2018-2020

Lecturer

Mirain Roberts
Sec. 2018-2019

Student

Jennifer Roberts
Deputy Sec. 2019-2020

Researcher

Kat Algar-Skaife
Deputy Sec. 2019-2020

Researcher
Actions selected for 2019 -2020
Calendar of 1st years planned events linked to working towards Bangor becoming a Dementia Friendly University
Date

Dementia Friends/ Champions sessions (C)

Audit of access by PLWD

Relaxed Film screening and song Pontio

Public event

Steering group meeting

June 2019

3

July

August

9th
Eisteddfod launch Welsh CD

September

1

1

Serendipity

1

October

3

1

November

1

December

January 2020

1

February

C

1

March

1

1

April

 29th Intergenerational sports day TBC

May

1

1
Contact details
If you are interested in our work- please join the Facebook Group:
Follow us on Twitter
Or email/phone / write to Catrin Hedd Jones (Chair) : c.h.jones@bnangor.ac.uk / 01248 388872