DSDC Staff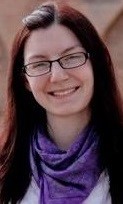 Hannah Jelley
PhD Student
Tel: 01248 388498
E-mail: h.jelley@bangor.ac.uk
Twitter: @Hannah_Jelley
Profile:
Hannah Jelley is a PhD student at Bangor University, her research project is entitled "Co-creating a resilience-building framework for people with dementia and their carers." This PhD studentship is funded by The Wales School for Social Care Research. This important project uses a strengths based approach to identify positive strategies to empower people with dementia and support those caring for them when adapting to the experience of living with dementia.
Research Interests:
Hannah Jelley works as a Research Project Support Officer in the Dementia Services Development Centre (DSDC) Wales at Bangor University. She is working on a European collaborative research project aiming to investigate access to formal care services. More information about the ACTIFCare project can be found here http://actifcare.eu/.
Hannah also worked on the recent project 'Creative Conversations: an arts-in-health-approach to communication'. This is a project aiming to develop and trial 'creative conversations' whereby care home staff use art, music and poetry to communicate with people with dementia.
Hannah supervised a PhD project on 'Recognising the challenge, responding to need and mapping a way forward: developing an environment to safeguard the quality of life (QOL) and wellbeing of people with advanced dementia in the care home sector'.

In addition to her research role, Hannah is also the DSDC Wales Training Officer and Internal Verifier for the training courses that DSDC Wales offer and has worked across Wales with care home and hospital staff completing Agored Cymru awarded courses and research intervention training.
Hannah obtained her MSc Foundations in Clinical Psychology in 2008 from Bangor University for which she researched well-being in older people. Since then she has worked on several research projects at the University working with people with dementia, their relatives, and care staff. Hannah has a particular interest in interventions aiming to improve the well-being of people living with dementia.
Publications:
Hughes, S, Woods, R, Algar-Skaife, K, Jelley, H & Jones, C 2019, 'A Collaborative approach: Care staff and families working together to safeguard the quality of life of residents living with advanced dementia', Journal of Central Nervous System Disease.
Marques, MJ, Woods, R, Hopper, L, Jelley, H, Irving, K, Kerpershoek, L, Meyer, G, Bieber, A, Stephan, A, Skoldunger, A, Sjölund, B-M, Selbaek, G, Rosvik, J, Zanetti, O, Portolani, E, de Vugt, M, Verhey, F, Gonçalves-Pereira, M & Consortium Actifcare 2019, 'Relationship quality and sense of coherence in dementia: results of a European cohort study', International Journal of Geriatric Psychiatry. https://doi.org/10.1002/gps.5082
Røsvik, J, Michelet, M, Engedal, K, Bieber, A, Broda, A, Goncalves-Pereira, M, Hopper, L, Irving, K, Jelley, H, Kerpershoek, L, Meyer, G, Marques, MJ, Portolani, E, Sjölund, B-M, Skoldunger, A, Stephan, A, Verhey, F, de Vugt, M, Woods, R, Wolfs, C, Zanetti, O, Selbaek, G & Consortium Actifcare 2019, 'Interventions to enhance access to and utilization of formal community care services for home dwelling persons with dementia and their informal carers. A scoping review', Aging and Mental Health. https://doi.org/10.1080/13607863.2018.1523876
Kerpershoek, L, Woods, R, Wolfs, C, Verhey, F, Jelley, H, Bieber, A, Stephan, A, Michelet, M, Selbaek, G, Handels, R, Wimo, A, Hopper, L, Irving, K, Marques, MJ, Gonçalves-Pereira, M, Portolani, E, Zanetti, O, de Vugt, M & Consortium Actifcare 2018, 'Do caregiver profiles predict the use of dementia care services? Findings from the Actifcare study', Aging and Mental Health. https://doi.org/10.1080/13607863.2018.1544215
Janssen, N, Handels, RL, Skoldunger, A, Woods, B, Jelley, H, Edwards, RT, Orrell, M, Selbaek, G, Rosvik, J, Goncalves-Pereira, M, Marques, MJ, Zanetti, O, Portolani, E, Irving, K, Hopper, L, Meyer, G, Bieber, A, Stephan, A, Kerpershoek, L, Wolfs, CAG, de Vugt, ME, Verhey, FRJ, Wimo, A & Consortium Actifcare 2018, 'Impact of Untimely Access to Formal Care on Costs and Quality of Life in Community Dwelling People with Dementia', Journal of Alzheimer's Disease, vol. 66, no. 3, pp. 1165-1174. https://doi.org/10.3233/JAD-180531
Handels, R, Skoldunger, A, Bieber, A, Edwards, R, Gonçalves-Pereira, M, Hopper, L, Irving, K, Jelley, H, Kerpershoek, L, Marques, MJ, Meyer, G, Michelet, M, Portolani, E, Røsvik, J, Selbaek, G, Stephan, A, de Vught, M, Wolfs, C, Woods, R, Zanetti, O, Verhey, F & Wimo, A 2018, 'Quality of Life, Care Resource Use, and Costs of Dementia in 8 European Countries in a Cross-Sectional Cohort of the Actifcare Study', Journal of Alzheimer's Disease, vol. 66, no. 3, pp. 1027-1040. https://doi.org/10.3233/JAD-180275
Kerpershoek, L, de Vugt, M, Wolfs, C, Woods, R, Jelley, H, Orrell, M, Bieber, A, Meyer, G, Selbaek, G, Handels, R, Wimo, A, Hopper, L, Irving, K, Marques, MJ, Gonçalves-Pereira, M, Portolani, E, Zanetti, O & Verhey, F 2018, 'Needs and quality of life of people with middle-stage dementia and their family carers from the European Actifcare study. When informal care alone may not suffice', Aging and Mental Health, vol. 22, no. 7, pp. 897-902. https://doi.org/10.1080/13607863.2017.1390732
Stephan, A, Bieber, A, Hopper, L, Joyce, R, Irving, K, Zanetti, O, Portolani, E, Kerpershoek, L, Verhey, F, de Vught, M, Wolfs, C, Eriksen, S, Røsvik, J, Marques, MJ, Gonçalves-Pereira, M, Sjölund, B-M, Jelley, H, Woods, B & Meyer, G 2018, 'Barriers and facilitators to the access to and use of formal dementia care: Findings of a focus group study with people with dementia, informal carers and health and social care professionals in eight European countries', BMC Geriatrics, vol. 18, 131. https://doi.org/10.1186/s12877-018-0816-1
Broda, A, Bieber, A, Meyer, G, Hopper, L, Joyce, R, Irving, K, Zanetti, O, Portolani, E, Kerpershoek, L, Verhey, F, de Vught, M, Wolfs, C, Eriksen, S, Røsvik, J, Marques, MJ, Gonçalves-Pereira, M, Sjölund, B-M, Woods, R, Jelley, H, Orrell, M & Stephan, A 2017, 'Perspectives of policy and political decision makers on access to formal dementia care: Expert interviews in eight European countries', BMC Health Services Research, vol. 17, no. 518, pp. 1. https://doi.org/10.1186/s12913-017-2456-0
Janssen, E, de Vugt, M, Kohler, S, Wolfs, C, Kerpershoek, L, Handels, R, Orrell, M, Woods, R, Jelley, H, Stephan, A, Bieber, A, Meyer, G, Engedal, K, Selbaek, G, Wimo, A, Irving, K, Hopper, L, Marques, M, Gonçalves-Pereira, M, Portolani, E, Zanetti, O & Verhey, F 2017, 'Caregiver profiles in dementia related to quality of life, depression and perseverance time in the European Actifcare study: The importance of social health', Aging and Mental Health, vol. 21, no. 1, pp. 49-57. https://doi.org/10.1080/13607863.2016.1255716
Kerpershoek, L, de Vugt, M, Wolfs, C, Jelley, H, Orrell, M, Woods, R, Stephan, A, Bieber, A, Meyer, G, Engedal, K, Selbaek, G, Handels, R, Wimo, A, Hopper, L, Irving, K, Marques, M, Gonçalves-Pereira, M, Portolani, E, Zanetti, O & Verhey, F 2016, 'Access to timely formal dementia care in Europe: protocol of the Actifcare (ACcess to Timely Formal Care) study', BMC Health Services Research, vol. 16, no. 423, pp. 1-7. https://doi.org/10.1186/s12913-016-1672-3
Quinn, C, Clare, L, Jelley, H, Bruce, E & Woods, RT 2013, ''It's in the eyes': how family members and care staff understand awareness in people with severe dementia', Aging and Mental Health, vol. 18, no. 2, pp. 260-268. https://doi.org/10.1080/13607863.2013.827627
Clare, L, Whitaker, R, Woods, RT, Quinn, C, Jelley, HY, Hoare, ZS, Woods, J, Downs, M & Wilson, BA 2013, 'AwareCare: a pilot randomized controlled trial of an awareness-based staff training intervention to improve quality of life for residents with severe dementia in long-term care settings', International Psychogeriatrics, vol. 25, no. 1, pp. 128-139. https://doi.org/10.1017/S1041610212001226
Clare, L, Whitaker, R, Quinn, C, Jelley, H, Hoare, ZS, Woods, RT, Downs, M & Wilson, B 2012, 'AwareCare: Development and validation of an observational measure of awareness in people with severe dementia', Neuropsychological Rehabilitation: An International Journal, vol. 22, no. 1, pp. 113-133. https://doi.org/10.1080/09602011.2011.640467